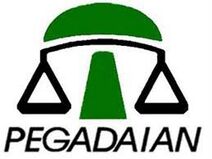 Pegadaian Semesta

Pencetus

Kurenai86

Peserta

16

Jumlah cerita

16

Durasi event

Satu hari (31 Oktober 2011)
Pegadaian Semesta adalah sebuah program tantangan yang diadakan oleh Kurenai86 sebelum NaNoWriMo dimulai.
Latar Belakang
Edit
Prolog cerita dari tantangan ini telah diposting di Kemudian.
Ketentuan
Edit
Penghuni tetap pegadaian ada 2 orang yaitu manajer bernama Alex yang cool dan asisten manajer bernama Rena yang ramah, centil, dan berbahaya kalau marah.
POV orang ke-3
Setting waktu dan tempat bebas. Boleh di dalam atau luar negeri, boleh di masa lampau (semacam HR), masa kini, dan masa depan (futuristik).
Batasan kata max. 4000 kata.
Genre bebas. Mau komedi, horor, thriller, romance, slice of life, atau apa saja terserah. Yang penting ceritanya mudah dimengerti.
Plot: tokoh utama memiliki masalah, ketemu pegadaian itu, melakukan transaksi, penyelesaian. Endingnya terserah, boleh happy maupun sad ending. Akan lebih bagus kalau ada pesan moralnya.
Alex dan Rena tak boleh dibunuh atau mengalami perubahan nasib. Anggap 2 orang itu cuma numpang lewat atau cuma sebagai perantara.
Deadline tanggal 31 Oktober 2011 (pas Halloween).
Cerita nggak boleh diposting duluan! Posting cerita harus dilakukan pas deadline, yaitu tanggal 31 Oktober 2011, bersama-sama dengan peserta lainnya. Ini dilakukan agar masing-masing peserta nggak saling lirik punya yang lain dan agar idenya original tanpa terpengaruh yang lain.
Format judul: Pegadaian Semesta: (isi sub-judul sendiri)
1. Nomor Satu - by. panglimaub

2. Hoax - by. daff

3. Bingung - by. Rea_sekar

4. Lukisan Duniaku - by. Nereid

5. Keadilan - by. Kurenai86

6. Hutang Cerita - by. Dark_Moon

7. Leonard Sinclair - by. k0haku

8. Suara - by. Zoelkarnaen

9. Our Colors of Memories - by. Sam_Riilme

10. Whiterless Rose - by. Erick

11. Rokok - by. neko-man

12. PoV Ke Tiga - by. Rendi

13. Meeting Waterfall - by. Robin Virgo Lee

14. Ayam Jago - by. yellowmoon

15. Pertukaran Setara? - by. red_rackham

Tidak memenuhi syarat (jumlah kata berlebih / pengumpulan tidak tepat waktu): 1. Mira - by. sekar88
Respon Usai Event
Edit
Semua cerita Pegadaian Semesta telah dikompilasi ke dalam satu dokumen
Ad blocker interference detected!
Wikia is a free-to-use site that makes money from advertising. We have a modified experience for viewers using ad blockers

Wikia is not accessible if you've made further modifications. Remove the custom ad blocker rule(s) and the page will load as expected.