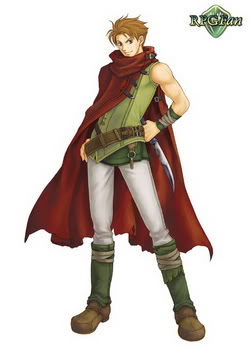 Eik Moonfang adalah Protagonist utama dalam cerita Quête Pour Le Château de Phantasm (sepertinya), di desain oleh makkie Perdana sebagai pemilik OC.
Latar Belakang
Edit
peran utama, Eik seorang freelancer. dia mengembara untuk mencari kekuatan melawan pembantai ortu dan kaum desanya. dia ingin menemukan LCDP dengan harapan sesuatu di dalamnya mampu memberitahukan dia segala kekuatan yang dia butuhkan untuk membalas kematian orang tuanya. Dalam Perjalanan, Eik menyadari ada kekuatan dewa yang bersemayam dalam tubuhnya dan mengetahui betapa besar kekuatan yang dimilikinya. Perlahan2 semua rahasia tentang dirinya mulai terkuak sejak bertemu Alcyon, Sidatta, pertempuran dengan Xalvadur dan Senri yang akhirnya membeberkan kebenaran tentang kekuatan dewa Matahari Shamash dalam dirinya. Dia akhirnya mendapat informasi bahwa ternyata ortu dan orang desanya dibantai pasukan Set di bawah pimpinan Sion.
Ad blocker interference detected!
Wikia is a free-to-use site that makes money from advertising. We have a modified experience for viewers using ad blockers

Wikia is not accessible if you've made further modifications. Remove the custom ad blocker rule(s) and the page will load as expected.