Culinary Challenge



Pencetus

Sam Riilme

Jumlah Peserta

??

Jumlah Cerita

??

Durasi event

??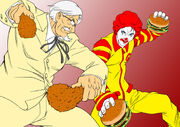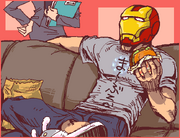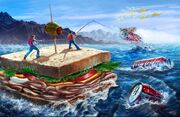 Culinary Challenge (Tantangan Kuliner) adalah program tantangan yang diajukan oleh
PK3
, dan telah mendapat persetujuan dari
Ratu
. Tantangan ini masih bersifat
tentative
dan belum diketahui kapan benar-benar akan diluncurkan di dimensi hijau, namun beberapa ketentuannya telah ditetapkan.
Latar Belakang
Edit
Berawal dari obrolan lepas antara penjual kaos kaki dan penjual cabe mengenai beberapa mahasiswa kedokteran yang keracunan bubur, ide ini tiba-tiba tercipta di kepala si PK3, dan segera ia realisasikan dengan mengajukannya pada pihak kastil. Merasa mendapat tanggapan yang positif, ia pun memulai tantangan pertamanya tersebut dengan penuh harap.
Ketentuan
Edit
Cerita bebas, entah itu fantasi, horor, petualangan, romance, slice of life, sci-fi, drama, gore, battle, TERSERAH. Yang penting harus ada MAKANAN yang menjadi SOROTAN UTAMA atau inti dari cerita tersebut.
Jumlah kata minimal 1000, maksimal 5000 (menurut Kemudian, bukan Ms. Word).
Format judul : "Culinary Challenge : [insert title here]". Judul harus menyebutkan sebuah makanan, contohnya 'Bubur Pembawa Petaka' atau 'Wedang Jahe Kalengan'.
Belum ada rencana kapan waktu yang tepat untuk event ini (saran?).
a
s
d
Respon Usai Event
Edit
"Payah, ga seru-seru amat!"
<(T_T)> orz OTL =3
Ad blocker interference detected!
Wikia is a free-to-use site that makes money from advertising. We have a modified experience for viewers using ad blockers

Wikia is not accessible if you've made further modifications. Remove the custom ad blocker rule(s) and the page will load as expected.